Ben Wang reported on November 18th whether there is a versatile white sweater in your closet and how you can miss the wild white in autumn. White sweater is a star love, street shoot love, love models, do not want to be said that you out of date, then you must start one!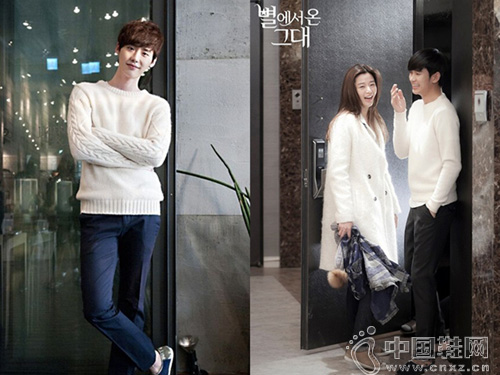 Star demonstration
Professor Lee Jong Suk and Professor Dou are both popular Korean stars. They also wear classic white sweaters. Lee Jong-seok (pictured left) uses a white knit texture sweater with dark blue trousers. Both professors (pictured right) are simple white sweaters with black casual trousers. The two beautiful men wear white sweaters into their everyday clothes.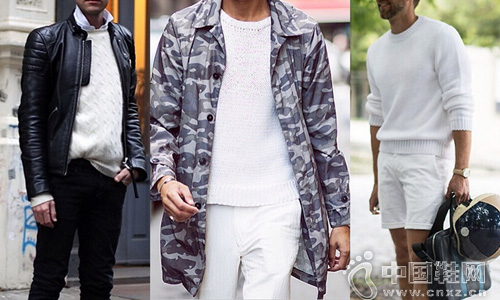 Street demonstration
Natural street fashion will not miss the wild white sweater. The left-hand urban male is full of charisma. It is composed of white sweater, white shirt, black leather jacket and black trousers. The middle of the equipment is mainly simple style, thin white sweaters and white trousers, so that the bottom paragraph can be used with any single product, the picture is selected outdoor wind camouflage windbreaker. Right in the picture is a cross-season mix and match, a relatively loose white sweater with white five-point trousers, such a small fresh outfit and uncle Husband actually did not violate the feeling.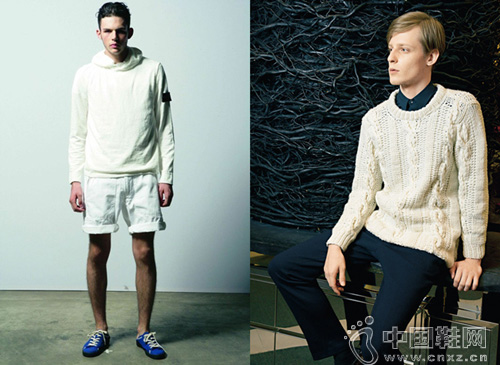 Model demonstration
Figure left the model's shape is very sporty, underwear are tacitly chosen white, white sweaters play a more warm role, the blue shoes are the finishing touch. Figure right model wear business casual style, shirt and sweater with the elegant temperament, black and white ratio of coordination, there is a quiet beauty of the man.
Half-length
The simplest white sweater in autumn is "a white sweater + a solid color trousers", which can be added with a T-shirt or shirt.
Sweater information: Left, Michael Bastian, priced at 7,913 yuan; right, Gant Rugger, priced at about 1,784 yuan.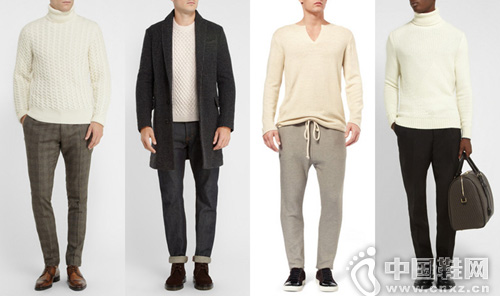 Body mix
The selection of specific colors suggests that achromatic and earthy colors should be given priority, and they should be more suitable for the autumnal environment. The visual effects are also softer. The selection of bag accessories can be tried as long as the color is not abrupt and the style is not exaggerated.
Sweater information: Left, Berluti, priced at 9145 yuan; second, Tomorrowland, priced at about 4,403 yuan; second, The Elder Statesman, priced at about 10,590 yuan; right, Exemplaire, priced at about 8,918 yuan.
More exciting content, welcome to scan the QR code below to pay attention to the official WeChat!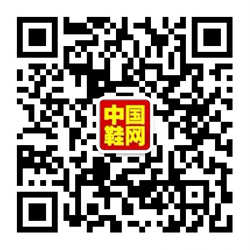 · "Bai Xia Girl" likes to wear on the upper foot
· Rejecting ugly rain boots The most IN patent leather shoes are your rain
·Admiralty body waterproof shoes make travel more pleasant
·The smart men wear comfortable shoes with comfortable feet to fly
·New Balance leads the tidal wave father to record
·[Shoes · Will] 23-year-old signature shoe is very show?
· Natural Kings, exclusive 70 year old Danish Humvee shoes
· Cats and shoes fire? Every girl should have a pair of Hepburn
·The white dress is not "small white"
·Pleated skirt with what shoes with different wipe out
1. Microfiber Fabric has a strong thermal insulation performance. The fabric will not mildew and insects. It is light and has a certain draping feeling. It also has water absorption and good moisture absorption and perspiration effect.
2. Microfiber Fabric will not pilling and shedding wool, and has a good handle. Moreover, the superfine denier fabric has a long service life and will not undergo protein hydrolysis.
3. Microfiber Fabric has high fiber density, strong adsorption capacity and easy cleaning.
Solid Microfiber Fabric,Microfiber Upholstery Fabric,Microfiber Furniture Fabric,Solid Cotton Fabric By The Yard
Shaoxing Haitang Textile Co., Ltd. , https://www.haitangfabric.com