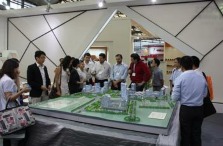 From the 10th to the 12th, the Asian Footwear Association **, Dongguan Huajian Group Chairman and President Zhang Huarong and his party came to Jinjiang to inspect the Jinjiang footwear industry, textile and apparel industry development. Wang Qingfen, the leader of Jinjiang City, accompanied the inspection.
Yesterday, the delegation visited the Jinjiang City Exhibition Hall, the Sanchuang Park Phase I plot and the Jinjiang International Shoes Textile City project site, and detailed the details of the two projects. Today, Zhang Huarong and his entourage will visit the footwear industry on the ground and hold discussions with representatives of Jinjiang footwear, representatives of textile and clothing companies, and representatives of government departments.
Jinjiang Sanchuang Park is an important carrier for Jinjiang City Party Committee and the municipal government to implement the "industry promotion, urban construction speed-up" development strategy and boost the "second pioneering" of private enterprises. The park commissioned internationally renowned companies McKinsey and Jinsi Construction Consulting to carry out overall planning and planning for the park. "Based on the city's strong industrial upstream and downstream industrial chain, with creative design, research and development incubation and financial services as the core, it is committed to creating the west coast of the Taiwan Strait. 'Chi Ling Hui Valley'" as the core positioning. China Jinjiang International Shoes Textile City project has a total planned area of ​​6500 mu, with a total investment of 8 billion yuan. The project aims to build China's and even Asia-Pacific region's largest and most complete varieties, the latest products of the shoes and apparel raw and auxiliary materials, shoes and clothing machinery and trade and distribution center with shoes and apparel industry and internationally renowned professional markets.
For the establishment and planning of Sanchuang Park and International Shoes Textile City, Zhang Huarong expressed his approval. He said that the biggest problem currently facing these two projects is to let more people know about these two projects. "In the case of the International Shoe Textile City, how can we let everyone know that there is an Asian largest shoe spinning market in Jinjiang, and let them come here to purchase it? This problem must be solved first." Zhang Huarong said.
It is reported that Huajian Group was established in 1996, and its headquarter is located in Dongguan, Guangdong Province. After 16 years of business, it has become one of the world's largest mid-to-high-end women's shoe manufacturers. It owns three production bases of Dongguan Huabao, Dongguan Dalong and Jiangxi Zhangzhou, and more than ten molecular companies, forming a whole set of R&D, trade, finished product processing, leather manufacturing, shoe manufacturing, shoe machine matching, and logistics distribution. Complete industrial chain. Thirty of the top 50 mid-to-high-end women's shoe brands in the world are Huajian loyal customers and form long-term strategic cooperation. Including BCBG GIRLS, CLARKS, COACH, CALVIN KLEIN, EASY SPIRIT, ENZO, GUESS, JAMBU, JOAN&DAVID and many other international famous brands.
Short Brim Hat,Short Brim Boonie Hat,Short Brim Bucket Hat,Short Brim Cowboy Hat
Foshan Lixin Trading Co.,Ltd , https://www.chnlixin.com